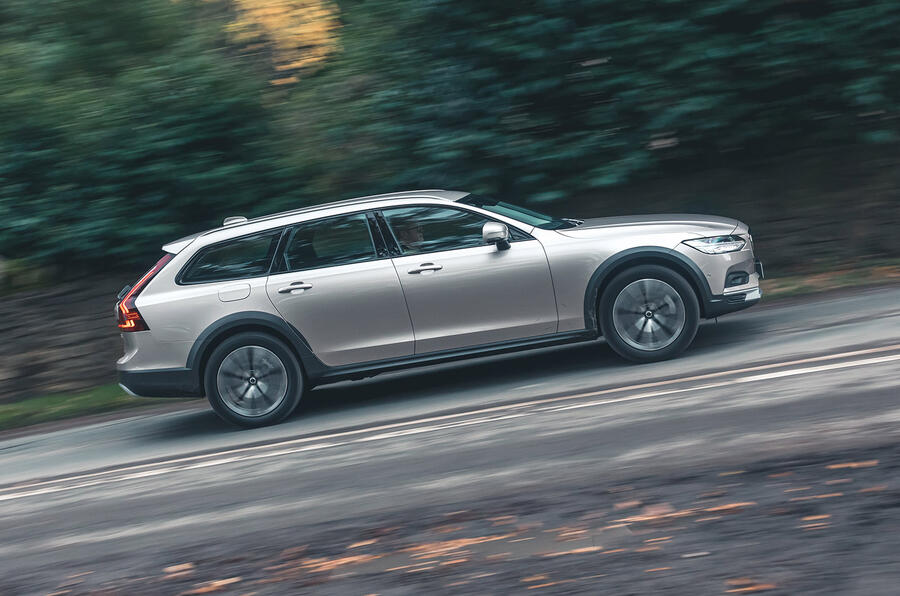 So what we might once have considered a slightly fringy and left-field model derivative suddenly looks a lot more like the traditional heart and soul of the modern V90 range. Volvo offers two mild-hybrid 2.0-litre petrol engines in the car, with around 250 and 300 horsepower respectively, and one mild-hybrid diesel with around 200 horsepower – all with proper, mechanical all-wheel drive. There is no Cross Country Recharge plug-in hybrid, electric charging posts being quite hard to find on idyllic beaches, on ski slopes and in farmers' fields, after all.
For equipment level, you choose between Cross Country Plus or Ultimate trims, the former having a mix of coil and transverse leaf springs and passive dampers, and the latter bringing self-levelling air suspension at the rear, as well as adaptive dampers, full-LED headlights, a head-up display, and a Bowers & Wilkins premium stereo, among other things. We tested a lower-powered B5P petrol in Cross Country Plus trim, with only metallic paint and a spare wheel as cost options.
Some new cars are positioned in a way that takes a surprising amount of thought for a reviewer to fully compute, but this isn't one of them. Volvo uses the umbrella term 'relaxed confidence' to describe the character it aims at for the car, and it's clearly not a complicated concept.